Kickstand Relocation Kit by HVC - for bikes with modified exhuast/expansion chambers. Our kit accomplishes two things.  It allows the stock side stand to be used with aftermarket exhaust and it takes out that terrible lean angle of the bike when it is resting on the side stand.
This kit will work with any after market exhaust using your existing side stand on the following motorcycles:
Yamaha DS7/R5
Yamaha RD250/RD350
Yamaha RD400
Yamaha RD400F
Kit includes:
Our steel bracket that has black oxide coating to prevent rusting
A longer spring that is designed and manufactured just for this kit
Hardware and a drill bit
Installation of the side stand kit will require the basic hand tools, a drill and either a pair of vice grips or a spring installation tool
(recommended)
.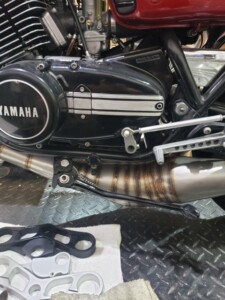 Note: This item is not eligible for discount